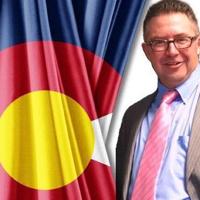 Alamosa City Council May Fund Recall of Controversial San Luis Valley District Attorney | News
The honeymoon is over in the San Luis Valley between its first-year prosecutor, the Alamosa police chief and residents – who last week pleaded with the city council to use taxpayer money to recall the man nicknamed "Let'em Go Alonzo."
The board listened to sentiment during the three-hour meeting that District Attorney Alonzo Payne is making the Valley less safe because he values ​​criminals over victims. Alamosa Police Chief Kenny Anderson said none of the more than 40 narcotics cases his department has assigned to Payne over the past nine months have gone to trial.
"They were all fired or committed lesser offenses with very minimal jail time," Anderson explained.
During a power point presentation, he showed pictures of heroin and crystal methamphetamine that his agents confiscated. Also included in his presentation are the "cop-killing" weapons they found on drug dealers.
tears of frustration
The meeting came to a screeching halt for several minutes as Anderson fought back tears over the suicide of a bullied middle schooler, which he said should not have happened. Jaydin Cruz, 13, was attacked at school on Friday, Oct. 1, Anderson said, and charges were recommended that Monday. "He's a 13-year-old kid. His guardians say that if it hadn't been for the prosecutor's office, Jaydin wouldn't have committed suicide.
Jaydin Cruz killed himself four days before Christmas as charges against his attackers "sat without action on the prosecutor's desk". As he inhaled to contain himself, Anderson said "I'm not a robot, okay?"
To remove District Attorney Alonzo Payne, the council would have to approve amending the city's Fair Campaign Practices Act to authorize up to $10,000 for the recall. The movement is unprecedented in the 12and Judicial District, which is as large as Connecticut and includes six counties.
"I get phone calls from people with terror in their voices because the person in line next to them at the grocery store is the person who victimized them," Mayor Ty Coleman told The Gazette. . "They feel there is no hope. They feel like the system is broken."
At the March 2 meeting, residents spoke of their fear of living in the valley, where they say dangerous criminals are getting plea deals and being turned back on the streets by Payne's office.
Payne's problems run deeper than the town of Alamosa's complaint. He is being investigated by the attorney general's office for violating the Victims Rights Act after the Colorado Crime Advisory Board received eight complaints about him since February 9.
Four of them were reviewed by the Victims Rights Act subcommittee, which found that the victims had not been consulted or treated fairly and sent their report to Governor Jared Polis, who then referred the case to Attorney General Phil Weiser, who called the charges "troubling."
Weiser traveled to the San Luis Valley Feb. 21-23 during a previously scheduled visit, where he met with local officials and community members, according to his spokesman Lawrence Pacheco.
This is the first time in the 30-year history of the VRA subcommittee that the board has made this type of referral.
One such case is that of a domestic violence victim named Lani Welch, who filed charges against her ex-fiancé for third-degree assault in late June 2020 and stalking a week later. Jeffery Tonso was on the run for seven months before he was apprehended last year and sentenced to prison on a significantly reduced charge of telephone obstruction for stealing his mobile phone.
Welch said Tonso used to threaten to kill her via text message, but made her delete all but one of those messages, which she hid and saved for later: "If I was less than a length arms (sic) I'll punch you right in your talking shit," he wrote to Welch in December 2019 in his first abusive communication with her. "Respect!!! You don't know what respect is.
Welch claims that once Tonso was arrested, Payne did not ask his opinion on the plea bargains. When she filed a complaint with the Rocky Mountain Victim Law Center, her response to the Victims' Rights Subcommittee in a letter calling her "hysterical."
Welch explains, "I was having a panic attack. I had just been told that the person who had repeatedly threatened to kill me was getting a lighter sentence.
Tonso was eventually sentenced to 18 months in prison and, much to Welch's horror, is expected to be released from prison this summer.
"I will never stop looking over my shoulder," Welch, who has been diagnosed with post-traumatic stress disorder, told The Gazette.
Welch said that through the experience, she discovered that her voice mattered. In addition to leading the effort to recall Payne, she has her eye on favorable legislation that would establish a state registry for victims of domestic violence.
Payne justified the deal he was giving Tonso because he had no previous convictions, but Welch discovered while researching on her own that he had been convicted of domestic violence five times before the meet in four other Colorado counties.
"I want to stop him from doing this to anyone else. It's terrifying when criminals know they can get away with their crimes. That's when they get away with it. intensify," she said.
Welch expects Tonso to move in with his mother in Colorado Springs once he is released.
As the San Luis Valley turns
The neighborhood looks like a soap opera. This week, Payne, a former Colorado public defender who ran on a criminal reform platform, filed an embezzlement charge against his predecessor, former district attorney Robert Willett, for "converting public funds or property for its own use". Willett was named DA by Polis in December 2019 and sworn in in January, but Payne beat him in the primary by a 62% margin.
Attempts to reach Payne by email and phone were unsuccessful, but he has supporters in the valley and not everyone thinks using town money for an encore is a good idea. At Wednesday's meeting, Councilman Charlie Griego said, "Using $10,000 to call someone back, I think is wrong." Griego recommended sending a letter to Weiser before approving any action.
But the stories of drugs and subsequent crimes in the city strike other council members who have seen it firsthand. "This drug house is two blocks from my house," Councilman Jan Vigil said. His neighbors are frustrated. "They're scared and it's not fair. There is only one person in all of this who is not doing his job.
Mayor Coleman lived across the street from a man who killed his best friend, buried him in the backyard, then booby-trapped his house with explosives when SWAT moved in.
"I was painting my house when the SWAT guys called me and told me to come in," he told The Denver Gazette.
"An entire city block had to be evacuated while waiting for the Pueblo Bomb Squad to secure the scene. I was at this one," Anderson said.
Eric, Gibbs, 37, was charged with first degree murder but pleaded to tampering with a deceased human body and was sentenced on January 20. He is eligible for parole in February 2024.
City Manager Heather Brooks read a memo at Wednesday's meeting noting that in addition to too many 'offers of favor' from Payne's office, city staff are also unhappy with what she described like a lack of communication with the town of Alamosa.
"The district attorney made it clear that the philosophical platform on which he relied applied to all levels of crimes and that he did not believe prison was productive," Brooks read.
Payne was unavailable for comment, but he ran for office with promises of penal reform and his philosophy is clear on his own district's webpage. The district attorney's website explains that incarceration rates in the San Luis Valley are the highest in Colorado, noting that his office will seek "…rehabilitation, recidivism reduction, and crime prevention in place of traditional criminal justice". The website's statement, however, says justice will be sought with the cooperation of law enforcement and community partners.
At Wednesday's city council meeting, it was clear the chief of police and the city manager for the largest town in the Payne district disagreed with him. Said Brooks, "We don't throw those words around as incompetence lightly. When we started looking into this problem, it was like lifting a rock and a lot of ugly things started crawling.
Coleman said he would support the idea of ​​shelling out whatever money it would take to circulate Payne's recall petitions, "To sit and wait another three years, it's not getting better. It's getting worse every week."