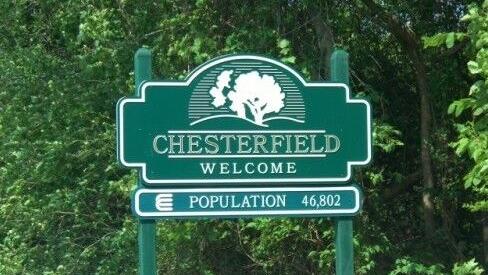 City Council Committee finds latest Chesterfield neighborhood redistribution plan more acceptable | Lifestyles
A new neighborhood redistribution plan, deemed less drastic than the previous one, was presented to the Finance and Administration Committee of Chesterfield City Council on October 18.
Justin Wyse, Director of Planning, presented a proposal that included neighborhood boundary changes originally proposed at the committee meeting on September 28. Boundary changes are based on demographics from the 2020 Census.
At this meeting, some committee members felt that the proposed neighborhood changes were too radical.
The new plan takes a more minimalist approach and is less invasive, Wyse said.
"The area east of Baxter, north of Lydia Hill, is moving from Ward 2 to Ward 4," he said. a few houses in an adjacent subdivision to follow these census block lines.
According to the United States Census Bureau, a census block is a statistical area bounded by visible features such as roads, waterways, and railroads, and by non-visible boundaries such as property lines, a city , a township, a school district, county boundaries and a short line. -sight extensions of roads. Delimited by the US Census Bureau once every 10 years. An automated computer process searches the office geographic database for all visible and non-visible features that should be a block boundary and creates a block each time those features create a polygon. This is the smallest geographic unit used for tabulating data.
Although there are 622 census blocks in Chesterfield, each with geographic boundaries and demographics, it has been difficult to correlate census blocks with subdivision boundaries, Wyse said.
The city is required to revise the neighborhood boundaries to create substantially equal neighborhoods.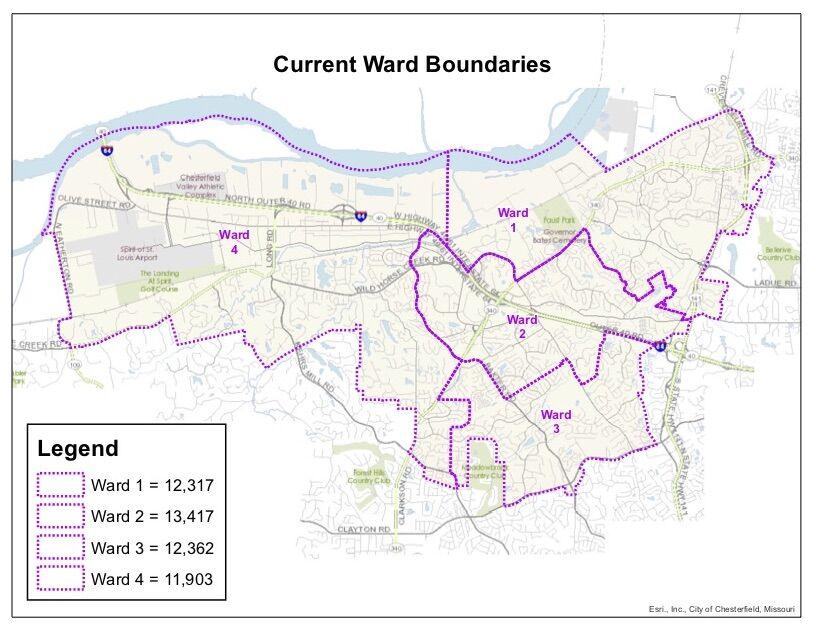 The existing population by district and the equal percentage of population are 12,317 residents in district 1 (1.46%), 13,417 residents in district 2 (7.34%), 12,362 residents in district 3 (1 , 10%) and 11,903 residents in Ward 4 (4.77%).
The changes made to the boundaries of the neighborhoods by neighborhood and percentage of the population in relation to equality are 12,643 residents of neighborhood 1 (1.15%), 12,376 residents of neighborhood 2 (0.99%), 12,362 residents district 3 (1.10%) and 12,618 residents of district 4 (0.95%).
Council member Michael Moore (Ward 3), chairman of the committee, said the new boundaries equalize, as best as possible, the different populations of the neighborhoods, all within plus or minus 1% of each other.
Council Member Barbara McGuinness (Ward 1) made a motion, seconded by Council Member Gary Budoor, to accept the proposal as recommended by staff. However, council member Dan Hurt (Ward 3) said that due to the future growth of Ward 2 and Ward 4, it would be better if Ward 4 was slightly negative and Ward 3 was slightly positive by 1% each. . He suggested adding a number of subdivisions to Ward 3.
"You could do that at the southern edge of Kehrs Mill, where you could start adding a few of these subdivisions to Ward 3 because ultimately it's probably Ward 3 anyway," he said. -he declares. "I don't see it making a difference to add a few of these subdivisions along Kehrs Mill to Ward 3."
Wyse named all the subdivisions that would be affected if they were moved from Ward 4 to Ward 3, which would result in a population change of nearly 500 residents. The action would raise Quarter 3 by 2.15% above the 12,500 average and reduce Quarter 4 by 2.31% below, he noted.
Moore pointed out that Ward 4 would pick up the population of Wildhorse Village, as well as any development in the Chesterfield Mall area, so he brought forward a motion to change the proposed dividing lines with the changes Hurt suggested. His motion died for lack of a second.
City administrator Mike Geisel noted that with a total of 497 people who would be affected by the move, that number would be surpassed with the first achievement in Wildhorse Village.
"Neighborhoods 4 and 2 will be where all of the population increase will take place," Geisel said. "It will probably be in the thousands over the next 10 years."
But McGuinness maintained that protections need to be balanced now, instead of trying to predict what will happen in the future.
"Our other redistribution stayed in place for 20 years," she noted.
A voice vote was taken by the committee on the original motion with unanimous approval.
The approved plan was presented to City Council at its November 1 meeting for a first reading. A final vote will take place at the board meeting on Monday November 15th.