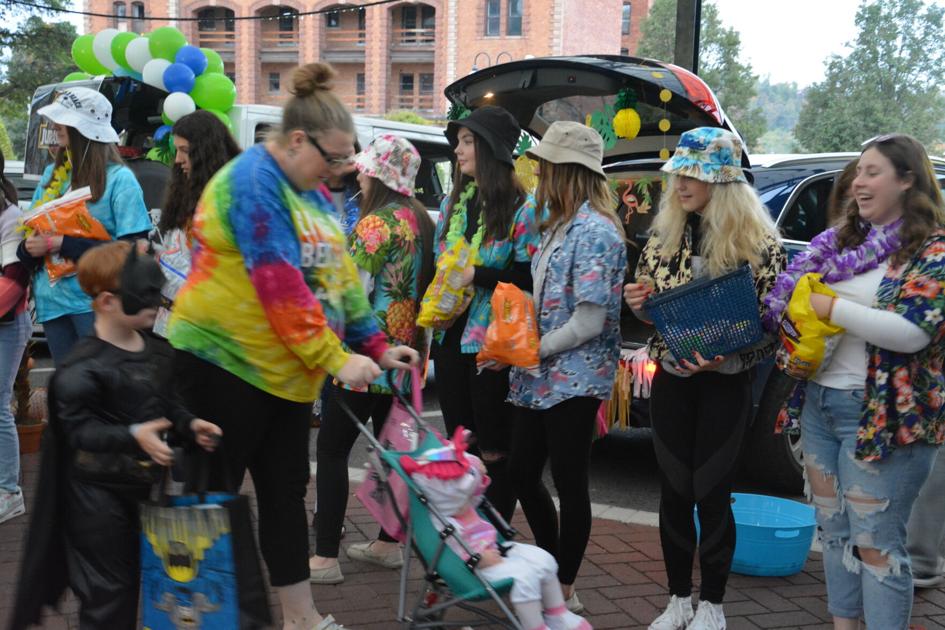 Clarksburg, West Virginia High Schools Collaborate for Trunk or Treats | New
[ad_1]
CLARKSBURG, Va. (WV News) – A seemingly endless line of young comic book characters, witches and baby animals marched through Jackson Square in downtown Clarksburg on Wednesday night for a trunk or treat sponsored by two local high schools – Robert C. Byrd and Liberty.
There were so many trunks or treats, RCB Student Council advisor Kolby Alonso said she just hoped the students handing out candy in front of nearly a dozen vehicles had enough candy to treat everyone in the line that looped on South 4th Street.
"We usually have this every year, but we had to cancel before because of COVID-19," Alonso said. "This year we have decided to start over and invite Liberty High School to join us. This is for Clarksburg."
So Alonso contacted Liberty Student Council advisor Cindy Hutson.
"It was a group effort," Alonso said. "The students brought candy and the leaders bought candy too. We had a lot more students than I expected. I think they were delighted to participate, and we are delighted with some normalcy."
In addition to the RCB and Liberty student councils, members of the National Honor Society chapters of schools, sports teams and other student organizations handed out candy. The students had about a month to design their vehicles, choose a costume, and buy candy.
"We're both schools in town, so she (Alonso) thought we should do it together rather than separately, and we agreed," said Shelli McKee, Liberty National Honor Society advisor.
In addition to handing out candy, Kalob McCaffrey, who runs RCB's Strategic Gaming Club, dressed up as a trunk or treat with his sons, Kane, 3, and Cullen, 1.5.
Liberty Student Council sophomore officers Camryn Shingleton, Ian Wickoff and Quinten Pennington ignored the chilly temperatures to dress as Hawaiian tourists for the chest or the treat.
"We wanted to make this special," Shingleton said.
On Friday, RCB students will be able to dress up at school if they donate at least $ 1 for breast cancer awareness.
[ad_2]