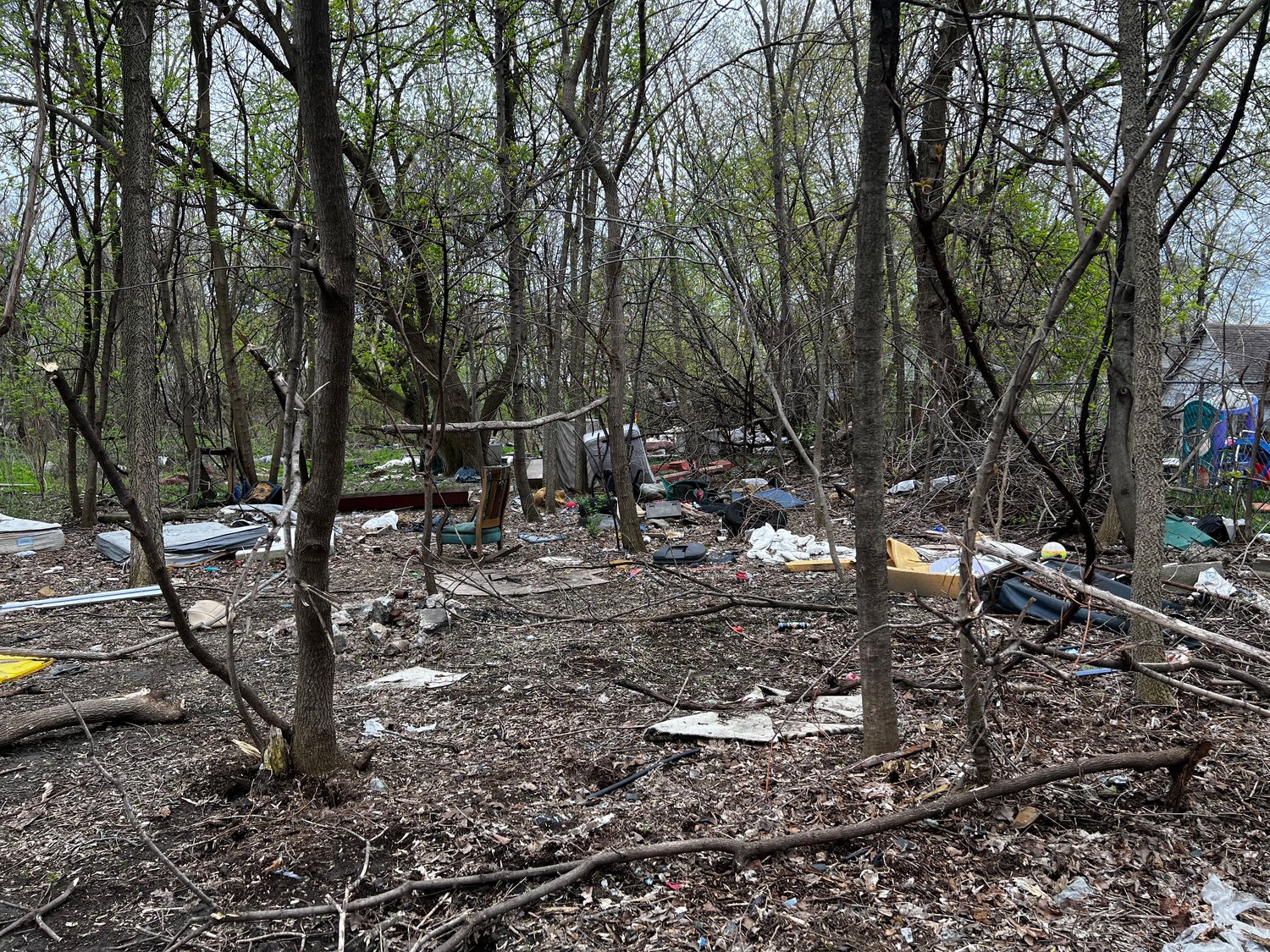 Council committee calls for garbage removal near Larch Park
Kyle Kaminski
FRIDAY, May 6 — A homeowner on the north side of Lansing may soon owe the city $20,000 as the city council moves forward with plans to clean up mountains of trash near Larch Park.
The council committee on public safety met yesterday afternoon to address some recent concerns from the neighborhood about an assortment of rubbish and other debris that has slowly accumulated over several years between several homes along the edge south of Larch Park.
Eastside Neighborhood Organization Secretary Ryan Kost first sounded the alarm on Facebook last month:This pile grew because people knew they could throw it here. This is yet another example of the north side not getting the same resources as the city," he wrote on April 10.
As of this morning, the mini dump near the park still includes mattresses, abandoned furniture, garbage bags, broken glass, half a boat, ceramic toilets and large mounds of other trash.
The organization's president, Nancy Mahlow, also wrote to the city council early last month: 'It is an absolute disgrace that these families are exposed to this kind of mess and filth. Summer is just around the corner and it would be nice if they could have a nice place to have fun.
Council Vice President and Committee Chair Carol Wood triaged a team of city officials to help resolve the issue yesterday afternoon.
Parks Superintendent Brett Kashinske said he inspected the mess near the park and found the miniature landfill was actually on private property adjacent to the park, not in the park itself. As a result, the city is now pushing the landlord to clean up the mess or face a $20,000 bill.
"There's a ton of trash there," Senior Housing Inspector Scott Sanford explained. "There's actually a pile of trash and half a boat. There's just all kinds of different stuff there.
According to Ingham County property records, the trash-filled parcel south of the park is owned by Eulanda Wilson and extends east to include the house at 1017 N. Larch St. Property taxes are paid by Glass Management LLC. City Pulse left messages on several phone numbers listed for Wilson. A tenant answered the door to the house this morning but said she could not immediately name or produce further contact details for her landlord.
So far, city officials said they have also been unable to contact the owner. And if they don't hear from someone this week, Sanford will send in crews to clean it all up.
"It's going to be huge," he told the Council Committee.