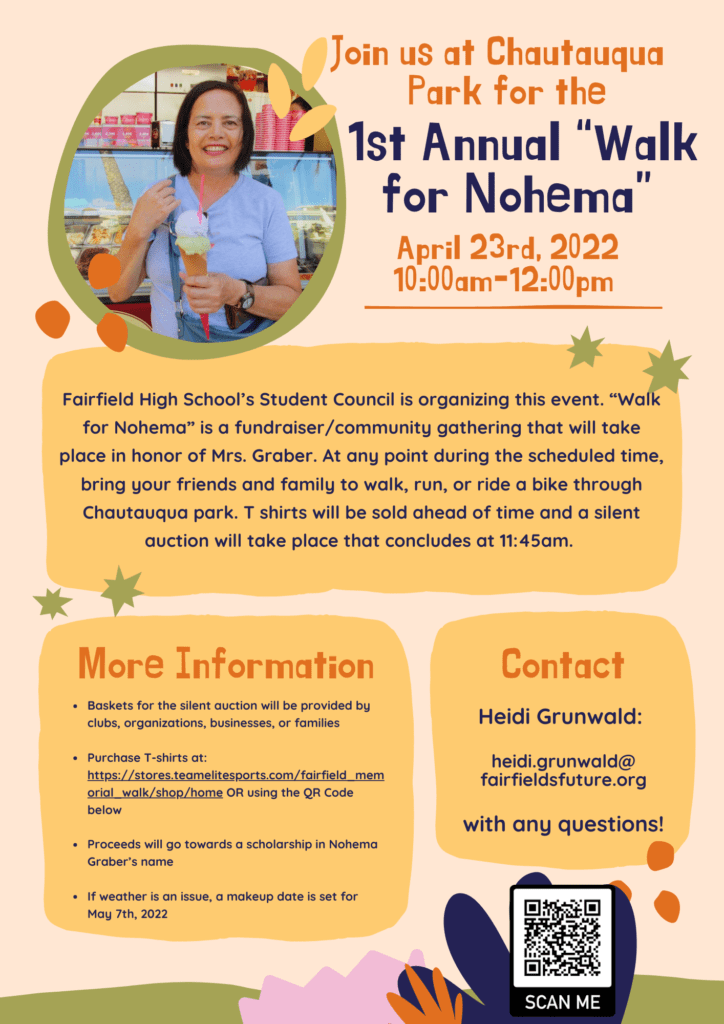 Fairfield Student Council Turns Tragedy into Triumph in Honor of Slain Educator | Radio KCII
Fairfield High School student council members bring the community together to honor a deceased mentor and create a positive narrative.
Trojan seniors Brynley Allison, Danielle Breen, Delaney Breen, Kylie Martin, Sarah McAvan, Mallory, Lyon and Anna Dunlap coordinated the first "March for Nohema" on Saturday, April 23 starting at 10 a.m. at noon at Chautauqua Park in Fairfield. The group recently spoke with KCII News about the idea behind the event and how Graber, a Spanish teacher at Fairfield, has impacted their lives. "We knew we wanted to host an event for Ms Graber, simply because she had such an impact on all of our lives and was such a great person to be around. One day I was talking to my mom about it and she suggested I take a walk in Chautauqua Park. I loved it and I told all the other committee members about it and they all loved it. This event has a lot to do with healing and everyone heals in different ways and at different times. We wanted it to be a big community event so anyone willing could do it, and I think being able to be a part of it for the community really means something to us, because I personally know that's what I would need . Lately, I felt satisfied because of all the positive comments. I feel like we are doing the right thing. Especially after talking to her husband, he confirmed that it was the right thing to do. It's an opportunity for everyone to find each other, to be together and to live together. Her ability to care for each student was so abundant and evident that she made every student feel welcome. She really wanted the best educational experience for everyone. Her heart was so big and she loved deeply.
Those who participate can walk, run or cycle through the park during this free event. There will also be a silent auction for baskets provided by local clubs, businesses and families. All funds raised will go to a scholarship in Graber's name. More information can be found on the Fairfield School District's Facebook page, by contacting Heidi Grunwald at Fairfield High School or through Wednesday's In Touch With Southeast Iowa program on KCIIradio.com.