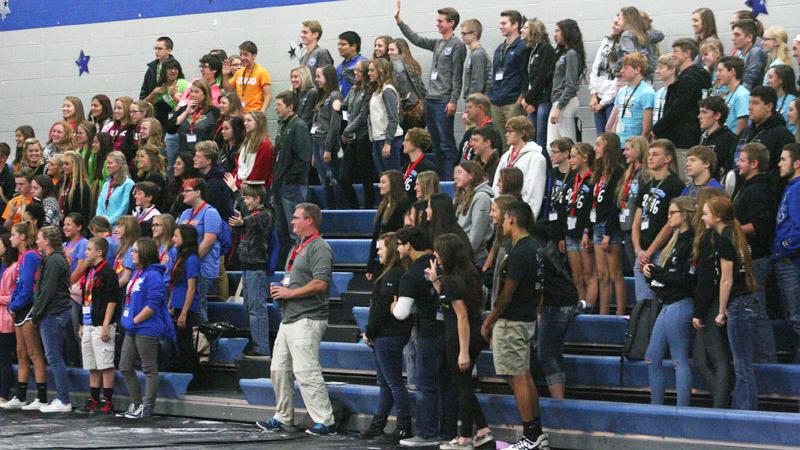 Plattsmouth Hosts State Student Council Convention | New
[ad_1]
PLATTSMOUTH – Students at Plattsmouth High School and College welcomed hundreds of their peers from across Nebraska on Monday morning at the state student council convention.
The Nebraska Student Council Association (NASC) held its annual state convention and state executive council meeting on the Plattsmouth High School campus. Over 800 students from all over Nebraska gathered at PHS for a day full of small group educational sessions, motivational speakers and networking opportunities.
Plattsmouth Superintendent Dr Richard Hasty told students at the morning opening ceremony that PHS is honored to host the State Retreat. He said he appreciated the scale of the event after speaking with PHS student council advisor Megan Poppen ahead of the conference.
"When I asked Ms Poppen where it would take place, she said we would treat this as a diploma and we would do it in the gym," Hasty told the students. "I knew then that it was a big event."
Student council members from the central and western Nebraska districts arrived in the area on Sunday, and students from the nearest communities descended on campus early Monday morning. The students represented schools ranging in size from Omaha Central to Pleasanton.
Poppen and fellow Student Council Advisor Mikayla Rhone worked with local high school and middle school students to organize the whole day. Students and staff at Plattsmouth installed bleachers, a sound system and large movie screens in the gym over the weekend. The Plattsmouth students served breakfast to their peers before the opening ceremony of the day at 8 a.m., and they guided other teens to various meeting places in the PHS building.
PHS Seniors April Graham and Connor DeSimone, PHS Director Jeff Wiles and Hasty all spoke at the start of the opening ceremony. PHS sophomore Lexie Kuhn sang the national anthem and members of the PHS Air Force Junior ROTC Color Guard presented the colors.
Members of the NASC Board of Directors honored Plattsmouth High School Director of Operations Shaun Brothers at the start of the ceremony. Brothers won the NASC Administrator of the Year award. The Plattsmouth teens stood up and applauded as the brothers received the honor for his work in promoting and encouraging all student activity in the district.
The opening ceremony also included speeches from several people. Millard South student Skylar Simmonds spoke about her participation in the Special Olympics and how it has helped her grow in so many areas. Students also heard from NASC State President Vinny Malene of Millard South and Launch Leadership Inc. liaison Megan Falke. Scott Backovich, a young motivational speaker from California, gave the keynote address.
The state convention also included swearing-in ceremonies for new state officers. Papillion-La Vista South student Mia Bravo became the new Secretary of State, Gabby Hogan of Millard South became the new Vice President of State and Max Van Arsdall of Lincoln North Star became the new president of the state.
[ad_2]