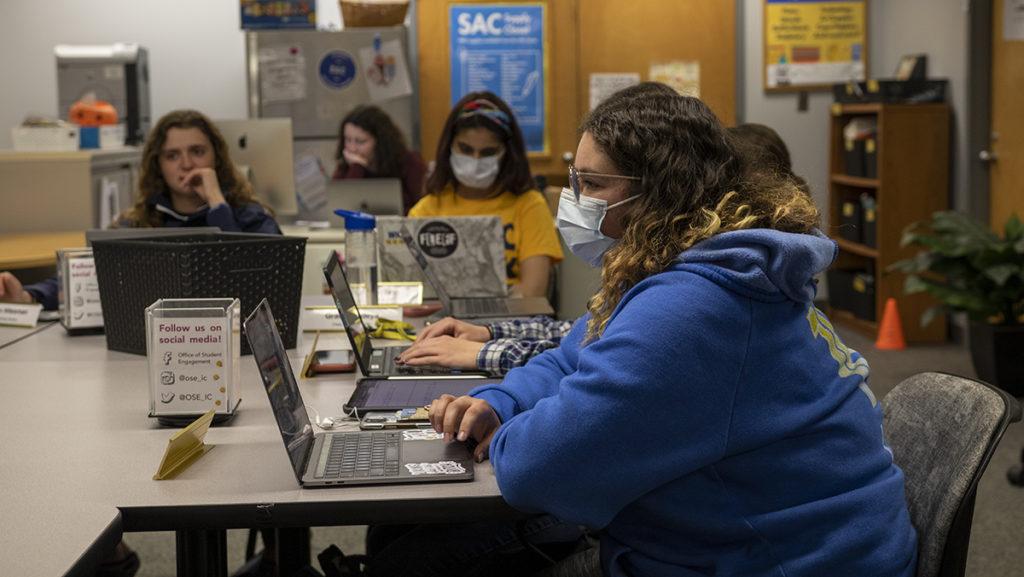 SGC adopts the first bill of spring 2022
At its April 11 meeting, the Ithaca College Student Governance Council (SGC) passed its first Spring 2022 bill to implement at least one gender-neutral bathroom in every building. university on campus by the end of the 2022-2023 academic year.
The SGC proposed and voted to adopt a recommendation for the bill on gender-neutral bathrooms in all university buildings. No member opposed the bill and seven members voted for its passage. Junior Tessa Kurtz, a senator from the School of Health and Human Performance Sciences, was work on this bill since fall 2021 with junior Lila Weiser, chief of staff; Maxwell Powers senior, vice president of business and finance; and Luca Maurer, acting executive director of Student Equity and Belonging and director of the LGBT Center. While some university buildings have one or more gender-neutral bathrooms, there are currently none at the Natural Science Center, Friends Hall, and Hill Center.
"We found that many students who would typically use a gender-neutral bathroom would need to use a bathroom either in the building that is gendered or in another university building, causing them to miss classes or their would make people feel uncomfortable," Kurtz said. "It's a matter of exclusivity. Every student should feel comfortable going to the bathroom everywhere that."
The college received a mark of five out of five on the Campus Pride Index as well as the Best of the Best LGBT!-Friendly list.
The bill states that any building constructed by the college after the 2022-2023 academic year must have bathrooms for all genders. The bill recommends that two multi-stall restrooms in each university building be converted to gender-neutral restrooms. Every toilet and urinal should have floor-to-ceiling cabins and every bathroom should have a supply of menstrual products. The bill recommends that every building that does not already have a gender-neutral bathroom create two by converting one currently designated as "female" and one currently designated as "male". Appropriate signage is also required in the invoice. According to the bill, appropriate signage includes either "all-gender restrooms" or "gender-neutral restrooms."
The bill outlines requested improvements for several college buildings that already have one or more gender-neutral bathrooms. There are two gender-neutral bathrooms located in the Ceracche center; one who has no menstrual supplies and one who inhabits an art supply closet. The Dorothy D. and Roy H. Park Center for Business and Sustainable Enterprise has eight gender-neutral bathrooms, three of which have no menstrual supplies. There is a gender-neutral bathroom located next to information technology services behind double doors that are not wheelchair accessible. Bill says gender-neutral bathroom in Textor Hall/The Muller Faculty Center junction has no menstrual supplies and has an unpleasant sign, showing a figure in a robe, one without a robe, and one with half a robe. The gender-neutral bathroom at the James J. Whalen Center for Music is located in Ford Hall and would be inaccessible if the room was closed or in use and the signage was inappropriate. with respect to the requirements of the bill — there is a sign with a character in a dress and another not in a dress with the word "bathroom" written below. The gender-neutral bathroom at the Whalen Center for Music is located in the Hockett Green room and would be inaccessible if the room was closed or in use. The gender-neutral bathrooms in the library are located on the fifth floor – one with an unenclosed urinal with a cubicle.
In college buildings like Roy H. Park Hall, where there's only one gender-neutral bathroom converted from a former men's bathroom, Kurtz said buildings that already have a gender-neutral bathroom will not be asked to convert another.
"In relation to the bill, we are saying that there is at least one gender-neutral bathroom in every university building, and given that it already has one, that would be something I should talk to administration," Kurtz said.
Sophomore Nick Viggiani, a senator for the Class of 2024, asked Kurtz what would happen in the friends room, since the building only has one male bathroom and one female bathroom in total. If the bill is implemented as is, it would mean that there would only be gender-neutral bathrooms in Friends Hall.
"I think it could lead to issues if you only have two gender-neutral bathrooms," Viggiani said.
Kurtz said she was unaware there were only two bathrooms in the guest room and would have to be discussed with facilities.
After the SGC passed the bill unopposed, junior James Zampetti, vice president of communications, said the college hired a new director for the Office of Energy Management and Sustainability. Zampetti – who served on the search committee – said he was unable to name who had been hired until the director officially assumed the job in June.
A few minutes before the SGC begins an executive session, Ithaca asked the SGC whether it had discussed the claims made against Luvelle Brown for allegedly abusing his son and abusing his power as superintendent of the City of Ithaca School district. Brown is also a member of the college's board of trustees. Junior Senate Speaker Austin Ruffino said there were no formal conversations between SGC members.
"Not yet," Zampetti said.
Due to the nature of executive sessions, Ithaca cannot confirm whether the SGC discussed Brown.