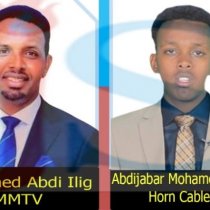 SJS and SOMA Strongly Condemn Parody Trial and Jail Sentence Against Journalists in Somaliland
Mogadishu (Horn Observer) – The Syndicate of Somali Journalists (SJS) and the Somali Media Association (SOMA) strongly condemn the travesty of the trial and the sentence of one year and four months in prison against three local journalists detained in Hargeisa since on April 13 to cover the Hargeisa prison shooting.
On Monday, the Marodi Jeh Regional Court sentenced MM Somali TV director Mohamed Abdi Ilig and Horn Cable TV journalist Abdijabar Mohamed Hussein to one year and four months in prison for what judges described as "publication of fake news". acquitted journalist Abdirahman Ali Khalif of Gobonimo TV.
Lawyers and reporters said Monday's hearing was held in a fast-track process without the knowledge of defense attorneys and family members of the defendants. The lawyers told SJS and SOMA that the judges were not independent of police intervention and therefore the judges were unable to press evidence for the charges brought by the prosecutor. against journalists.
"We have closely followed the detention and false accusations against the three journalists: Mohamed Abdi Ilig, Abdijabar Mohamed Hussein and Abdirahman Ali Khalif who have been in detention since April 13. The authorities first fabricated false charges against the three journalists, but then resorted to using the publication of false news with the intention of instilling fear and sending a chilling signal to the journalist community," he said. said Abdalle Ahmed Mumin, Secretary General of the Somali Journalists Syndicate (SJS). "We condemn the jail sentence against Mohamed Abdi Ilig and Abdijabar Mohamed Hussein today. We call on the Marodi Jeh Regional Court to drop this politically motivated conviction and immediately release our two colleagues. »
"We strongly condemn this sham trial and the jail sentence handed down against our colleagues in Somaliland today. This is another black spot of democracy in Somaliland. Journalists should not be intimidated and threatened by a sham trial" , said Mohamed Osman Makaran, the Secretary General of Somaliland. Media Association (SOMA) said, "We call for the immediate and unconditional release of Mohamed Abdi Ilig and Abdijabar Mohamed Hussein."
In addition, the Marodi Jeh Regional Court of Appeal on Monday imposed two years in prison and a fine of three million shillings (372 USD) against journalist and social activist Abdimalik Muse Coldon who was imprisoned on August 19, 2021 and him imposed a fine.